aNaLoG.MaN Links and other files page
Analog Man pages
Effects information/DIY effects sites
Parts, Supplies, Repairs
Books, magazines, e-zines, etc
Dealers
Manufacturers
Guitar and trade shows
Bands and musicians
Misc other stuff

---
Here is a RUSSIAN ARTICLE about Analog Man in Guitar World Russia.

Cesar Diaz made some of the best tube amps and effects ever, and is world famous for his work with SRV, Dylan, etc. He had a rough time after a liver transplant due to a congenital liver condition. He passed away on 4/26/02. Here is some information on a benefit concert in NYC and Cesar.

Frequently Asked Questions : Don't understand Exc+++ ? Have some more questions on vintage effects? Then read our FAQ.

Our Ibanez Tube Screamer Page

Our REAL MCCOY by Teese pages, The best WAH WAHs available.

Wah Wah article by Eric Kraft, about old wahs and the Teese Real McCoy.

Hunting The Tone another interesting article by Eric Kraft, about vintage vs modern equipment.

Eric Shoaf article

Here is an IMPORTANT article from Vintage Guitar Magazine that I recommend you read. It is about customer/dealer relations and the vintage guitar hobby, written by Eric Shoaf. Please read it if you have not yet done so.
---
Related Links
Here are some related WWW links you may want to try :
---
Here is a cool application that allows you to set up pedals on a pedalboard. It has most of our pedalds on it. Pedalboard Planner

Not effects, but here is a cool FAQ from my friend Joel Reed about setting up your guitars. He is in Wilmington NC and can do the work for you if you are in the area.

Here is a repair we did on a vintage pedal for someone from the UK, a cool old ASTROTONE fuzz pedal. The article tells you how to repair broken pots. Go to article

See R.G. Keen's Guitar Effects Oriented Website for lots of DIY information about different type of effects, some history (by aNaLoG.MaN), and tons of information on building your own effects!

A great DIY site, Aron Nelson's Stompbox Page web site.

One more great DIY site, JD Sleep's Guitar Effects Projects web site.

How effects work, The Monkey explains it all. Mainly funny.

Here's a good article about various vintage effects, Stompbox Stampede! A User's Guide to Vintage Effects By Art Thompson, From Guitar Player, June '95.

Digital Sucks site tells you why most digital effects sound so bad.

more info on The difference between Analog and Digital specifically in recording.

Mode Zero site has tons of info and sound files on pedals, specializing in phasers, flangers, etc.

The Talk Box FAQ site has all you need to know about the talk box

Here is an awesome UK web site with reviews of some cool old pedals including our JUICER which appeared in the European Guitar Buyer magazine. TheGigRig.com. He also makes some awesome pedal switching systems.

Looking for amp or effects schematics or info? Check out AMPAGE for tons of FIY info and a DIY effects forum, or Schematic Heaven for more schematics.

Here is a cool Japanese Vintage BIZARRE Effects site.

Check out the Tone Frenzy page for some cool ideas and sounds on out of the norm effects and music.


GM Arts from Australia has excellent information on how effects work, and more on amps, pickups, and making music.


Harmony Central music pages. Classifieds, lots of info.


Univox made cool effects and also amps and guitars (the Hi Flier mosrite copy is one of my faves).


Here is a cool website about the use of fuzz pedals in country music in the 1960's, they were hipper than rock music for a while!


Here is a page with great info on Tel-Ray Effects featuring the famous oil-can delays.

A great Japanese effects site,
FX HOME PAGE with some English but mostly Japanese. Has many user reports with bar chart ratings of many effects.

Here's a great article by Mike Beigel (mutron-III and Q-Tron designer) and Elliot Randall (Steely Dan, EH, etc) about envelope filters from 1980.

Here is more info about Mu-tron on musitronics.net

www.CrazyAboutGuitars.org is great site for the guitar community with tons of information about everything 6-string. Donīt miss S.C.`s section about counterfeit and replica guitars!

The Guitar Zone. Guitarists, here's the place for acoustic guitars, electric guitars, bass guitars, all fretted instruments, effects, strings, luthiers, instructional videotapes, music CDs, and much more.

This Stompbox Blog is pretty cool, a guitar effects virtual museum.
---
aNaLoG.MaN GUITAR and effects PARTS list

Need repairs on amps, effects, etc in NYC? Try dBm pro audio/music for your needs.

Howard (Mick) Davis, EE - this designer of most of the vintage Electro-Harmonix products now has his own lab for the DESIGN, REPAIR, and CUSTOM MODIFICATION of analog guitar pedals. Email him at howard.davis2@att.net or Howard's Web Site.

Amps-n-bits.com Specializing in the WOW Factor! (The Weird, Oddball & Wonderful) of Vintage British Valve Amps, Spares, Parts, Bits, Speakers, F/X, etc Used & NOS, from the 60's to the early 80's

Tape heads for echoplexes, reverbs, tape recorders, etc, contact Joe at Magnetic Head Stock Room

Check out
THE TUBE STORE for all your vacuum tube needs!
Try The Tube Depot in Memphis, TN
Need amp work or a custom amp in the PA area? Then check out
Analog Brothers with a name like that they've got to be good!

Parts is Parts! If I don't have it, check American Guitar Center for new and used parts and accessories!

Go to MOJO Musical Supply if you need Tubes, Amp parts, Speakers, etc.

JustStrings.com - I think you can guess what they carry! They carry all types.

Couch Guitar Straps make vintage and hip looking vegan guitar straps, using seatbelts and automotive upholstery materials.
---
Of course our book is the first one to check out! Analog Man's guide to Vintage Effects is the bible of guitar effects.

Phil Taylor, Pink Floyd's production director and long time guitar technician, has called on us from time to time. In late 2007 he released an awesome book, The Black Strat - a history of David Gilmour's black Fender Stratocaster.

Check out Six String Soul Guitar Blog for tons of excellent info on gear, playing, interviews, and everything else that a guitarist needs.

Premier Guitar is the true gearhead's resource, focusing on the best high-end, boutique and custom shop gear available today. Featuring a column by Analog Mike and Analog Tom (Stomp School) and interviews with the biggest gearheads in the industry, our interactive Gear Search, product reviews and informative tech and educational columns you can't find anywhere else.

Here is a cool guitar/bass gear blog from Joe King in Nashville, GearTrap

Looking for books, videos, parts, etc? Check out JK Lutherie for the best selection in vintage guitar related media.
Magazines
Vintage Guitar Magazine home page


Twentieth Century Guitar Magazine home page


ToneQuest report : the player's guide to ultimate tone.
---
Guitar Base is the place to find a specific guitar you want.

Visit the VOX SHOWROOM at North Coast Music : Who else could it be for VOX gear?
fortmadisonguitars.com, Everything in Music/Sound the World's Largest Danelectro dealer!
AutoHarp
www.autoharpusa.com is a website that is committed in bringing you the best quality autoharps available online and focused on serving you cope with your musical needs. We provide all autoharp accessories along with the best made autoharps so that you can play the best music.
---
Teese REAL MCCOY CUSTOM Wahs web site for more info.

Cesar Diaz Amplifiers and effects. We miss you Cesar!

Vox Amps, the UK official website for their cool effects, amps, and guitars.

Suhr Guitars are used by Scott Henderson and many more, check them out!

Grosh Guitars is a Premier builder of custom, high-end guitars, basses and pickups, made in Colorado.

Mu-Tron History By Chris Gill, GP magazine. More Mu-Tron Articles (look towards the bottom).

Find out the real story on Mu-Tron effects.

Prescription Electronics effects can make you well again.

Way Huge electronics Vintage style effects

FullTone guitar effects is now online with sound samples too!

Roland and Boss will sell you schematics and manuals and have more information on their web site.

Here is a price list of Roland and Boss pedals and accessories from 1979.


Voodoo Labs (Digital Music) make some cool retro pedals. We sell the pedalpower.


Hagstrom Guitars - I still have my 1st guitar which like many of you was a Hagstrom-II. Here is some cool info and parts!


Tom Anderson Guitarworks - Great guitars and service!


Electro Harmonix/Sovtek page.


GIBSON is online, click here to date your Gibson guitar!
Gibson is also OBERHEIM and MAESTRO, they have some info on effects too.


Brian Moore Custom Guitars : Innovative Guitars with vintage values.


Audio Cage : Custom amplifiers - well made without bells and whistles or crazy prices, but with TONE.

kangaroo Amp Covers : cool looking, durable amp covers with pockets for your pedals! Made in the USA.

Sound Enhancer makes awesome products to make your combo amp project and sound it's absolute best!

Ampendage Amp Stands - Great looking stands for discerning musicians.

Lava Cables are some nice cables for running to your pedals or to your amp, with a lifetime warrantee, made in the USA!

SMFGUITARS - Award winning, custom hand-carved guitars.

Chicago Blues Box some very cool tube amps!

guitareffectspedalboards.co.uk makes some great Pedalboards & Cases in the UK.
---
---
Jon Butcher has gotten a few pedals from us over the years, and was kind enough to make an awesome sound sample of his NKT SUNFACE which you can hear on our sunface page.

Trey Anastasio from Phish has been using our pedals for quite a while, this is a page we put up about Phish.

Jimmy Herring is one of our favorite guitarists, check out his playing with Jazz is dead, Project Z, the Allman Brothers, etc. Jimmy has been using our modified TS9/808 since 2000.

Here is some info about David Gilmour, who got some of our Sunface pedals for his 2006 tour.

Brad Whitford from Aerosmith has been touring with our Bicomp and King Of Tone, here is some info I put together about them. Here is a report on Kenny Wayne Shepherd with pictures and information on his analog man effects. Andy Powell of Wishbone Ash is a neighbor in Connecticut and one of the most significant guitar players in rock history. I put up a page with pictures, videos, and more information on their gear and what they are up to lately.

Roger Filgate was also in Wishbone Ash and has done a bunch of our sound samples. He's also local to us in CT and always working on an amazing new musical project.
OZZY and SABBATH are BACK!!!!
I went to the REUNION 1999 show in New York, it was awesome! Ozzy and his voice were in great shape, better than when I saw his solo band on his last tour. Tony Iommi now has another Tycobrahe para pedal, which I brought to him. Tony's sound was killer thanks to Mike Clement, his guitar tech - about the best guitar sound I have heard in a huge arena. Check them out on the OzzFest tour! I also saw them on the OZZfest tour in 2001 and they were still smokin! Also met up with him again on the Heaven and Hell tour with Dio in 2007 and brought him another TS9/808 as a backup for the one he had been using for several years.
Here's a small video clip from the 1999 Reunion show! (War Pigs)
Free with any order : Black Sabbath streamer ribbon from the 1999 show (just ask).
WANTED (For Tony Iommi) : Allen Bradley pots, 250K EJ series

Ozzy's Solo Band is still going strong too, here is some info about when I was working with them back in 1996.

Dan Spitz of Anthrax is having a lot of fun with our BICHORUS pedal.

Greg Martin of the Kentucky Headhunters has been one of my favorite guitarists since I saw him play at the Dallas guitar show years ago. Greg got one of my TS9/808 pedals and a modified fuzzface in April of 2001, and our Beano Boost in 2003. He also sent me his old TS-808 to fix up, and I fixed up three of his old Vox Clyde McCoy wahs.

Dave Malone of The Radiators has one of the best pedalboards around, with most of our pedals (of course) and gets some awesome tones for their Funky New Orleans Rock N' Roll!

Scott Henderson is one of the true tonemeisters of today's music, and uses a lot of pedals from aNaLoG.Man including our TS9/808, DS-1/Pro, and Beano Boost. Here is a cool video showing his rack with his TS9/808/Silver and SD9 mod in it, and at the end he also talks about the Beano Boost. It's the PART 1 INTRODUCTION video.

moe. is a great band from the Northeast, they can really get jamming! Check out Al and Chuck's pedalboards for our tube screamer mods and bicomprossors.

Monty-Jay's Metallica Gear Site

Who is the mystery caller?? click here to hear the message.

Here is our Beastie Boys page with some pix from Ad Rock's trip to aNaLoG.MaN and more links.


Jim Weider of the Jim Weider Band, guitarist from "The Band", is a regular at Analog Man. He's using a pair of true bypass boxes I built for him (one with pure silver wire!) and an NKT SUN FACE, a BICOMP, and a special TS9/808 made to sound like his original TS-808. Of course he's using the King Of Tone pedal which he helped design. He also has a cool Multivox full rotor that I fixed for him for his leslie sounds. I have a Jim Weider page on my web site for more info. He often plays in the Danbury area and at blues clubs all over the northeast, you have to check him out if you are into good tone and good playing. Also check out his CDs BIG FOOT, Remedy, Percolator, and Pulse..

Ronnie Montrose now has his RONNIELAND web site up. He has one of the first Captain Coconuts, and sure likes his Maestro PS-1As!!!! Keep on phasin' Ronnie!

MONSTER MAGNET completed a new album in the winter of 2003/2004! The last few years, they toured with Aerosmith, Rob Zombie, Marilyn Manson, etc etc etc. Check them out if you like real, heavy rock. Their CD Power Trip is KILLER! You probably have heard Space Lord on the radio or MTV.
See my Monster Magnet page for more info on this hot band who uses our TS-808/Silver mods and Teese wah mods. Phil is also using our Beano Boost and comprossors now.

Jeff Pevar is 1/3rd of CPR (with David Crosby). You may have seen them on tour or on TV. Jeff also plays in the CT/NY area when not on tour with CPR, and was touring with JAZZ IS DEAD in late 2002 (Jim Weider and I checked them out at the CHANCE in Poughkeepsie - what a player!!!!). Check out his sound and pedals! Jeff is one of the few, in addition to Monster Magnet and Adam Horovitz, to have experienced the aNaLoG.MaN collection/mess at our old location in person! Jeff uses our TS9/808 mods, DS-1/Pro mod, and a Bicomp which he has turned several friends onto (thanks Jeff!).

Straight out of Geelong, Australia, Magic Dirt's 4th show was with Sonic Youth. Imagine Debbie Harry singing for The Queens of the Stone Age. Their third album 'What Are Rock Stars Doing Today' is out now. Check www.magicdirt.net for more details.

From Hell, Michigan is Michael Katon, one of the undiscovered US Rock/Blues and Boogie players who has quite a following in Europe. Michael is using our NKT SUN FACES and TS9/808 mods. here is a shot of his pedalboard with a Teese wah, our Sunface NKT and Silver mod tube screamer.

Nick Sterling is an amazing young up and coming guitarist. He helped to improve our Bichorus pedal when he bought one from us and found an issue. We'll see some more great playing from Nick in the future!

Chris Buono , up and coming NYC sideman and session guitarist, recently purchased not one, not two, but THREE BiCompRossors for his live and studio rigs. The first chance Chris got to use his new toy was a session with super-producer Neil Dorfsman (Sting, Paul McCartney, Dire Straits). Also, Chris recently hooked up with Analog Mike to teach a 2 hour seminar on pedals at the National Guitar Workshop in June 2003.

Scott Lerner from NJ is an awesome player who uses a bunch of analog man pedals along with his Baker Guitars and Fuchs amps for awesome tones! Scott features our Silver Mod TS9/808 and bicomp.

Flume from the DC area makes excellent use of some of our pedals (good samples of our chorus sound on their CD Note to Self!)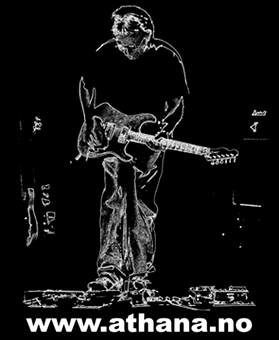 Athana : Fat beats and rhythmic guitar noises from Norway, featuring several of our pedals and mods. Thanks to Alf T. Hana for pushing us to offer the high cut mods several years ago. There is also a cool shot of him and his band on my analog man T SHIRT page.




&nbsp

Curtis Reid has a new (7/99) CD it is really cool! Instrumental Guitar with bass and drums, some tunes have shades of Eric Johnson, many progressive rock tastes (Crimson?). Some awesome guitar synth orchestration too, and lots of vintage effects (Fuzz faces, TS-808s, echoplex, etc). Here are some samples on Amazon.com


Check out Tom Guerra's website. His 1999 CD Mambo Sons is available. The web site has some great Sound Samples (with Rick Derringer) of his STONES sounding, good old rock and roll. Also Interviews he did with Great Guitarists, and list of his equipment (with some amps and effects from aNaLoG.MaN!). Their 2nd CD is out in late 2002, Play Some Rock & Roll! with several of our effects and amps featured. More cool vintage tones!

PLOP! : Experimental Music : Groove,Power,and Life
Introducing the project band between HARLAN and Andy Soto! Andy has found a lot of cool pedals for me in Mexico. Check out the website and enjoy the wonderful tracks!!! : )
PLOP!

The Paul Lee Band is a Christian rock band from the San Diego area. Guitarist Bob Kraus loves his TS7/808!

Lefty's house of tone from Matt with the hat in Colorado.

Lost Possum is a new band from MO with guitarist Bob using my DS1/pro and Juicer on all his solos.

I have been fortunate to work with Tony Levin quite a bit, here are some pictures and more info on this legendary musician and artist.

Peter Gabriel's REAL WORLD Radio and more info about pg. Peter has a fuzz factory which I sent him in thanks for his music which has made life better for so many people.

Genesis Path is a great site about Genesis and pg also.

Steve Hackett is one of my favorite guitarists, and has a lot of MP3s to download.

The Musical Box is a Canadian band who perform early Genesis shows in concert. I made the trip north to see them perform The Lamb Lies Down On Broadway and it was one of the best shows I have ever seen, here is my show report. Later saw them in Philly and NYC, they are playing in the USA more now.

Sean Chambers from Florida has a great heavy blues band, check them out if you like guitar driven blues!

Phil Varca and the Slam Jammers nothing but rockin' blues to the bone!

www.byronnemeth.com Byron Nemeth, a visionary guitarist cut from the same fabric as Joe Satriani and Steve Vai.

More to come! If you are into vintage effects and your band has a web site let me know!
---
Guitarist Gift Give the gift of music with online guitar lessons, the ultimate guitarist gift.

Free Sound Effects
Free Sound Effects for use in creative audio-visual projects including YouTube, TV, Film, Websites, PowerPoint, Animations, All Media.

Robb McMahan has a web site, The Music Mentor, where you can learn what it takes to make it in the music busines. Robb knows all aspects, from getting great tone to dealing with record companies and promotion.

Hand selected website listings

VintageSynth.com has info on my favorite old keyboards.

Online music school for the continuing education and music career network from Berklee College of Music.

Check out the cool effects T-shirts from Wah Wah apparel in the UK.

TAXI: the world's leading independent A&R company helping unsigned bands, artists and songwriters get record deals, publishing deals and placement in films and TV shows.


A.C. Tackman & CO LLC for accounting, Consulting, and taxes.

Guitar lessons online & scales - learn how to play guitar. GuitarVision.com is the revolutionary new way to learn how to play your favorite songs on the guitar.

Guitar Lessons, Guitar Tabs & Chords Crossroads online guitar tabs and guitar lessons conducts streaming instruction for advanced or beginning guitar students; try our free guitar lessons before you purchase!

Handwritten site reviews here.

Why you should not buy from the big chain stores, by Ed Roman of world class guitars who I have known for years. Ed was in my same town basically, I also know "Maurice" well!!

The 90/10 secret: you are in control of your life.

Still searching for that third word ending in -GRY (angry, hungry, -gry)? Find out the TRUTH here.

Check out D3 Music Learning Network for music library and methods of learning to play.


guitar4free.com Over 200 Free Guitar Lessons and resources

Want to learn How to sing the blues? (humor).


NO MORE 55/65 mph federal speed limit!!! Thanks, NMA!


Return to the aNaLoG.MaN main page